Have old bread to use up? The one I am using for this recipe is a white sourdough that was baked 6 days ago. It's still good enough to eat, but hey, I get bored, so I like to move on to the next loaf if I can, after all, I've quite a few to choose from every week (#bakersperks).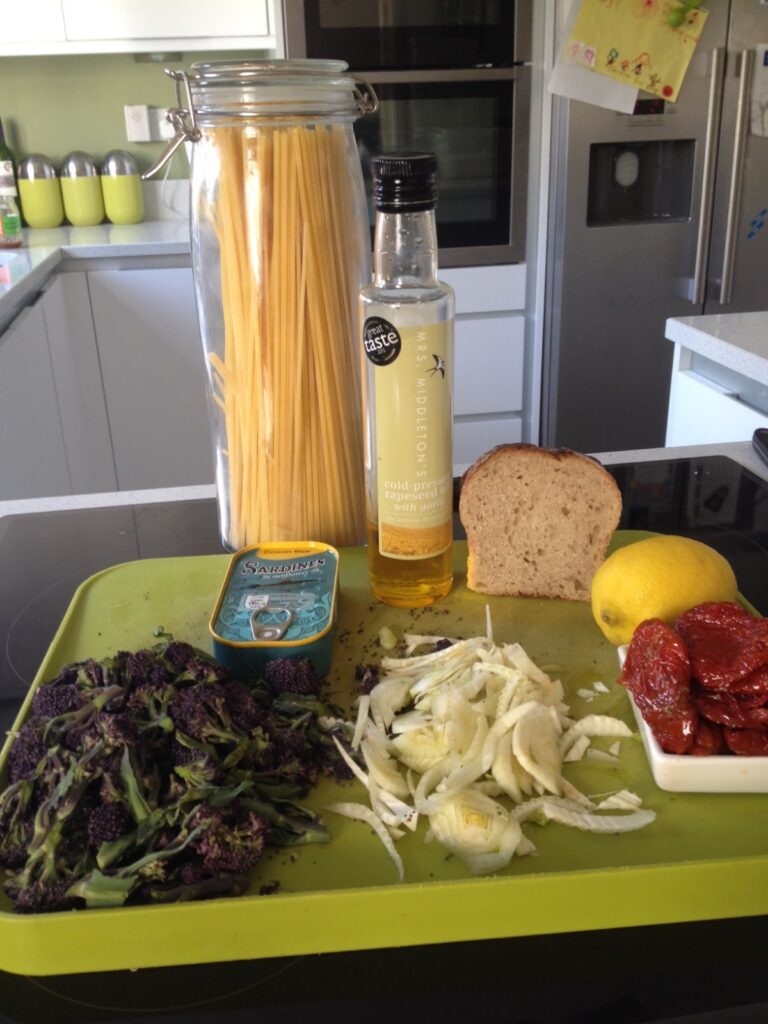 Anyway, this is my recipe and is a great way of using up stuff in the fridge. It's gotta feed the 3 of us.
Old veg (choose from Fennel, broccoli, rocket, french green beans, savoy cabbage) – chop it up a bit
1 lemon (need the zest and a little bit of juice)
Some REAL bread (v v important) made into crumbs – you prob only need about 50-100g
1/2 to 1 Jar of sun-dried tomatoes – minced
Tin of Sardines or anchovies (in oil) mushed up a bit
2-3 teaspoons of capers (optional)
teeny tiny bit of chilli flakes (optional)
Some Rapeseed oil (I like Mrs Middletons Garlic for this)
Pasta – I am using linguine but conchiglie (shells) would be better.
Put the water on for the pasta – (you don't need me to tell you how to do this do you)?
Take a wok, put the oil in, heat to hot and then toss the veg around for literally a couple of minutes but don't add rocket till the very end if you have this.
Add all the other ingredients – lemon juice to taste. Make sure all combined and heated through for another couple of mins, stir in rocket if using and serve over the hot pasta.
You could chuck on some Parmesan cheese to serve too. Bon apettit!
Handy hint: If you think it doesn't look "wet" enough, then add a little of the pasta water in to loosen.